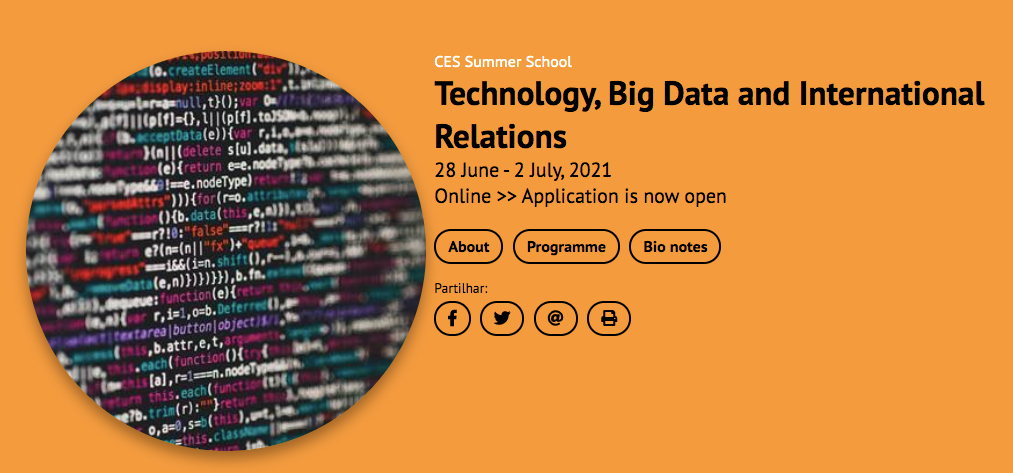 CES Summer School | Technology, Big Data and International Relations
28 June – 2 July, 2021, CES | Alta (Coimbra, Portugal)
>> Applications until 30 APRIL 2021 >> more information and how to apply here
About the Summer School: 
Debates on technology and power are not unprecedented in the field of International Relations. However, the way both interact in today's digital era holds challenging configurations for both the practice and the study of International Relations. Drawing on different interdisciplinary contributions, this Summer School aims to critically explore the epistemological and methodological possibilities big data and the Internet of things (IoT) bring to IR while critically questioning how far the technology that allowed the advent of these has been revolutionizing the world we live and how research in IR is concurrently going through an epistemological, (de)ontological, methodological and ethical shift.
This Summer School will offer a mix of seminars, group discussions and workshops on theoretical debates, digital methods, and specific areas of IR where theory and digital methods might be critically applied.
The following sessions are of particular relevance to DeCode/M:
Monday, June 28th | 14h00 – 16h00: Critical Perspectives on Technology, Technopolitics and Power, Sofia José Santos, University of Coimbra
Tuesday, 29th June  | 15h00-17h00: Workshop on computer-assisted content analysis, Bia Carneiro, University of Coimbra
Tuesday, 29th June | 17h30 – 19h00: Having a cyber-coffee with Tanya Lokot and Oscar Hemer on 'Europeanization, Communication and Conviviality'
Wednesday, June 30th | 9h00 – 11h00: Digital Ethnography: contextualizing 'big data' through thick descriptions of everyday lifeworlds online, Tina Askanius, Mälmo University
Wednesday, June 30th | 17h30 – 19h00 – Having a cyber-coffee with Thomas Tufte, Lia Tsuladze and Simukai Chigudu on 'Internet, Politics and Communication for Social Change'
Thursday, July 1st | 11h30 – 13h30: Workshop on Network Analysis, Inês Amaral, University of Coimbra
Thursday, July 1st | 15h00-16h30: Populism, Masculinities and Web Performativity, Alexandre de Sousa Carvalho, University of Coimbra